June 19th - Berkshire College
NPS Area 15, Suffolk Showground
Ricky 1st and Champion in the Junior Ridden Class, ridden beautifully by Claire's friend, 16 year old Amber Thorpe, qualifying him for the Royal International!!
He has now qualified for 2 classes at the Royal International-What a star!! Ricks is going to have a busy time at Hickstead!
6th June 2011 - Yashmina, now a ridden pony - sadly For Sale
Yashmina, now a ridden pony, is sadly for sale and looking for some wonderful person to fall in love with her. At 14.3 h.h. she a fun pony, with charm, personality and masses of ability. Already hacking out alone, she has taken to the riding lark like a duck to water.
For more details see our For Sale page.
6th June 2011 Isla
Isla arrived safely at her new home in Cambridgeshire where she will be in the safe hands of Chris and Jo.
1st June 2011 - New Kid on the Block
1st June 2011 - Suffolk County Show
Ricky continues his winning streak, this time In Hand, winning the Highland Class, Champion Large Breeds and Reserve Supreme Champion
Sunday 22nd. May - NPS Area 13 - Cottenham Racecourse
Ricky won his section of the pre-Olympia Qualifier in fine style and was 2nd. in the Intermediate. A very windy day, but still they managed to produce the goods.
First foal of the Year - Roscoe, son of Inca
Copyright © - The article above (dated 31.03.11) has been reproduced by kind permission of Horse and Hound. Click on the image to read the whole article.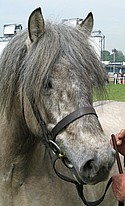 Balleroy Maverick
Ricky is now with Claire Collier, who has him on loan and will be competing with him this year. They have had a couple of trial runs at BSPS shows, where they have done very well, already bringing home several wins, a couple of championships and a reserve.
Ricks appears to have settled in well and although greatly missed here, has taken the move in his stride. Best of luck to Claire for the coming season.